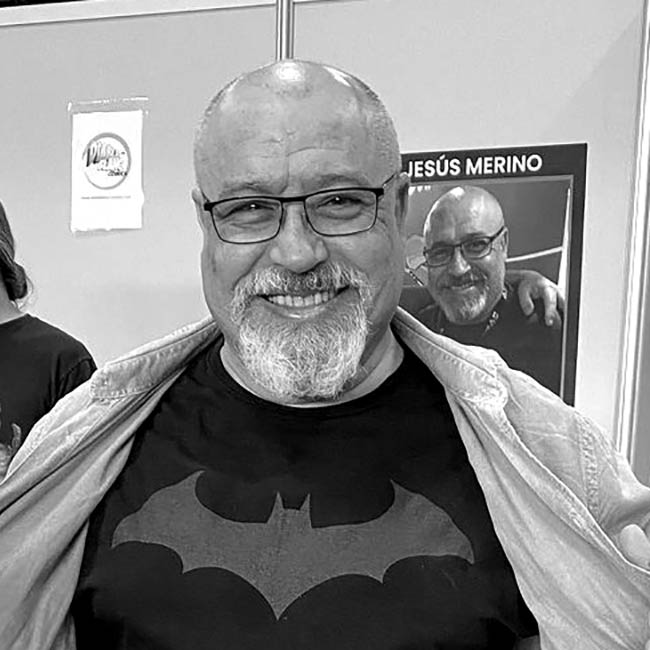 J
esús Merino began, after successive participations in fanzines and contests, publishing several works in the Laberinto Line of the Spanish publisher Planeta DeAgostini.
Since 1998 he has worked primarily as an inker with Spanish artist Carlos Pacheco in Marvel Comics and DC Comics in such well-known series as Fantastic Four, Avengers Forever, Arrowsmith, Green Lantern or Superman. As an inker he contributed expressiveness to the figures and body to the composition.
Since 2008 he started working again as a solo artist, doing a run in Justice Society of America until 2010. Later he was commissioned to draw Superman, for the new release of the same in 2011 as The New 52, with scripts from George Perez. From then on he continued working for DC Comics, often linked to Superman's headlines in Action Comics, also taking charge of other collections such as Team 7, Futures End, The Flash, Aquaman, Justice League, Astro City (along with screenwriter Kurt Busiek) , Hellblazer , Detective Comics, among many others.
For a time his art was linked to the character of Wonder Woman, for which he worked in the regular series as well as specials, case of The Witching Hour.
After working in a variety of projects such as Teen Titans, Supergirl, Dark Nights or Infinite Frontier, he was tied to The Joker Presents: A Puzzlebox project, involving a large number of Batman characters.
In the last months he's been working for the DC /Black Label imprint in the limited series WALLER vs WILDSTORM.